Fingerprint Lock, IP65 Waterproof Smart lock/Outdoor Weatherproof Bluetooth Padlock
$48.84
$73.26
saving
$24.42
Fingerprint Lock, IP65 Waterproof Smart lock/Outdoor Weatherproof Bluetooth Padlock
$48.84
$73.26
saving
$24.42
SAY BYE-BYE TO KEYS, COMBINATION, AND BLUETOOTH PADLOCK!!
Your finger is your key and only takes 1 second to unlock. Smart Fingerprint Lock is equipped with advanced fingerprint technology with automatic recognition, safety, and convenience.
✅ INTELLIGENT FINGERPRINT SCANNER LOCK: NO App, NO Key, NO Password. No, any complicated operations. Your fingerprint is the Key. Do not worry about losing the key or the password is known to the thief because they cannot get your finger. Especially for the elderly and children, it is the safest protection.
✅ IP65 SECURITY LOCK AND RUGGED CONSTRUCTION: The door smart lock beam is made of stainless steel for excellent tamper resistance. IP66 weatherproof protects against dust and water. The seamless joint is great for anti-thief, anti-dust, and anti-erosion. IP65 Waterproof gym lock is your best choice to protect your private property from thieves, The fingerprint lock is small and classic, just 90g,3*1.8*0.51in. Kindly attention: This padlock is not recommended for extended outdoor use in rain or snow.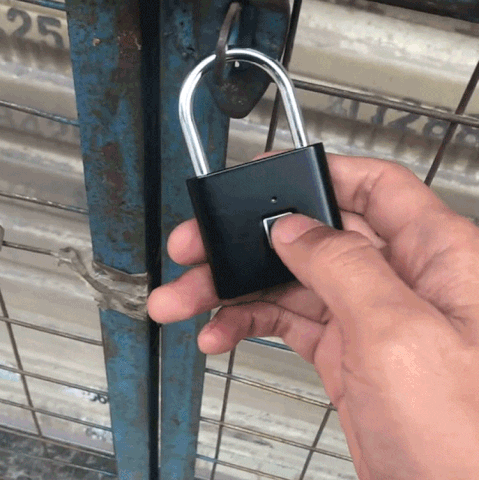 ✅ USB RECHARGEABLE & EXTREME LONG RUN TIME: Biometric pad locks have lower power consumption and longer standby time. The USB rechargeable 150MAH lithium battery can support up to 6-month of standby time. When out of battery, the pad lock will remain locked, simply connect to a USB power supply and recover.
✅ ADVANCED CPU CHIP: Good identification, Low misjudgment rate. Every time you unlock, the pass rate will be continuously improved through fingerprint stitching and image recognition self-learning algorithms.
✅ 0.5 SECOND UNLOCK, AUTOMATIC RECOGNITION TECHNOLOGY: Advanced Fingerprint Gym Lock and USB Rechargeable locker adopt the advanced fingerprint identification chip, Quick unlocks in 0.5 seconds. It can collect 2 administrators and up to 10 fingerprints total, easy to use. one hour for a full charge, it can unlock more than 9,000 times which means for 6-12 months you do not worry it out of battery.
Features:
Unlock fingerprint, your fingers unlock everything.
0.5s speed recognition, 360 ° biometric recognition with any angle, induction rate ≤ 0.5 s.
Durable structure, zinc alloy, and splash-proof lock body protect your assets from thieves.

Portable, small, and light.

Family and friends share, up to 10 groups of fingerprints can be saved for unlocking.

Rechargeable lithium battery, no additional battery required.

Safe and secure, O10 will remain locked even if the power goes out.

Low power alert and fast charging technology.
Specifications:
Material: Zinc alloy
Working voltage: 3.0-4.2V

Lock weight and size: 90g, 7.6 * 4.6.1.3 (cm)

Fingerprint sensor cover: 72 * 64MM

Unlock speed: within 1 second

Working period: one year per power charge

LED light: three-color light: red / blue / green

Battery: 3.7V lithium build-in battery

Working temperature: -10 ~ + 40 degrees Celsius

Fingerprint capacity: record 10 times and save 10 groups