Wireless Qi Charger -30W Max Fast Wireless Charging Pad
$24.99
$59.54
saving
$34.55
Wireless Qi Charger -30W Max Fast Wireless Charging Pad
$24.99
$59.54
saving
$34.55
✅ WIRELESS FAST CHARGE: Engineered to safely deliver up to 15W of power for Qi-enabled devices, including iPhone, Samsung Galaxy, Google Pixel and more. Simplify and unclutter your workspace and time with the convenience of fast charging
✅ MAX PROTECTION TO YOUR MOBILE: Wireless qi charger is made of Third Generation Widening Coil, Japan Murata Capacitor, Super American Chip, and Zinc Alloy, it has a better texture and faster speed. Zinc alloy will provide the BEST heat dissipation effect on the market, which can protect your mobile phone to the greatest extent.
✅ BEST MATE ANYWHERE: Mini size phone charger pad can be carried around. Suitable for travel, business trips, parties, gifts, etc. Wireless qi Charger Compatible for: iPhone 11/11 Pro/XS/XS Max/XR/X/SE. Samsung Galaxy S10/S10+/S9/S9+/S8+/S8/S7 Edge/Note 10/Note 9/Note 8.
✅ SAFER AND EASIER TO USE: Exclusive Multifunctional Intelligent Protect Technology provides temperature control, surge protection, short-circuit prevention. Besides that, this is Qi certified charger, made of ABS Material which is fire-resistant, and has a UL Certificate, you can purchase it at assurance. Double guarantee and dual safety provide you safety experience. To get better experience, we would like you to take off the phone case and use the adapters as recommended for Samsung charging
✅ STYLISH DESIGN: The premium Ultrasuede finish looks sleek on any tabletop. With small, compact & non-slip grip, wireless charging pad low-profile design is perfect for fast charging at home, the office, or on the road. A 360-degree rubberized non-slip TPU coating protects the device from scratching with micro-USB cable.
✅ CHARGES THROUGH LIGHTWEIGHT CASES: Fail-safe circuitry engineered into the morphine charge stream pad plus prevents over-charging and controls temperature to prevent overheating which reduces the need to constantly remove your case from qi charger pad.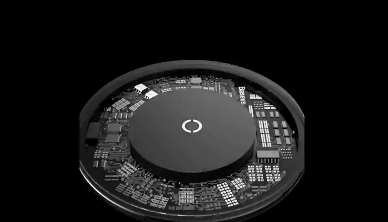 Specifications:
Material: aluminum alloy + PC mirror material

Wireless charging standard: Qi

Input interface: Type-C

Input voltage / current: 12V / 3A 9V / 2A 5V / 2A

Output voltage / current: 30W 20W 15W 7.5W 5W

Working frequency: 110-205KHz

Charging efficiency: ≥ 75%

Product size: 100mm x 6mm

Product weight: 90g